This is the first of several new pages that will pool resources and ideas for mosaic artists and makers, creative living enthusiasts and and lovers of all things soulful. I love lists so I thought it was about time I created a few on the Glittering Shards site! So welcome to the new series of post…
Lists & Links
You can expect lists and links about sources of inspiration, design, tools, techniques, books and topics of interest (see categories on the right to give you a flavour!). A place to empty my head of the things that I have found helpful in the hope that they may be of help to you too…
I get lots of enquiries (and heart warming feedback) from this site, week in week out. One of the most common questions is about sourcing supplies…so that seemed a good place to start. I will be continually adding to the list you see below so do come back and check this page whenever you are scouting for resources as there are new ones popping up all the time. It will always be easy to find in the categories on the right. You can also help! Please do add resources from your own country and experience in the comments section (click 'Leave a comment' under the post title above).
Here we go.. where to get your supplies for mosaic making:
1. Recycling & re-purposing
A good place to start! My first ever mosaic was made with left over tiles from home projects plus a small number of tiles I bought. Here it is (spot the legs – they are upturned plant hangers!)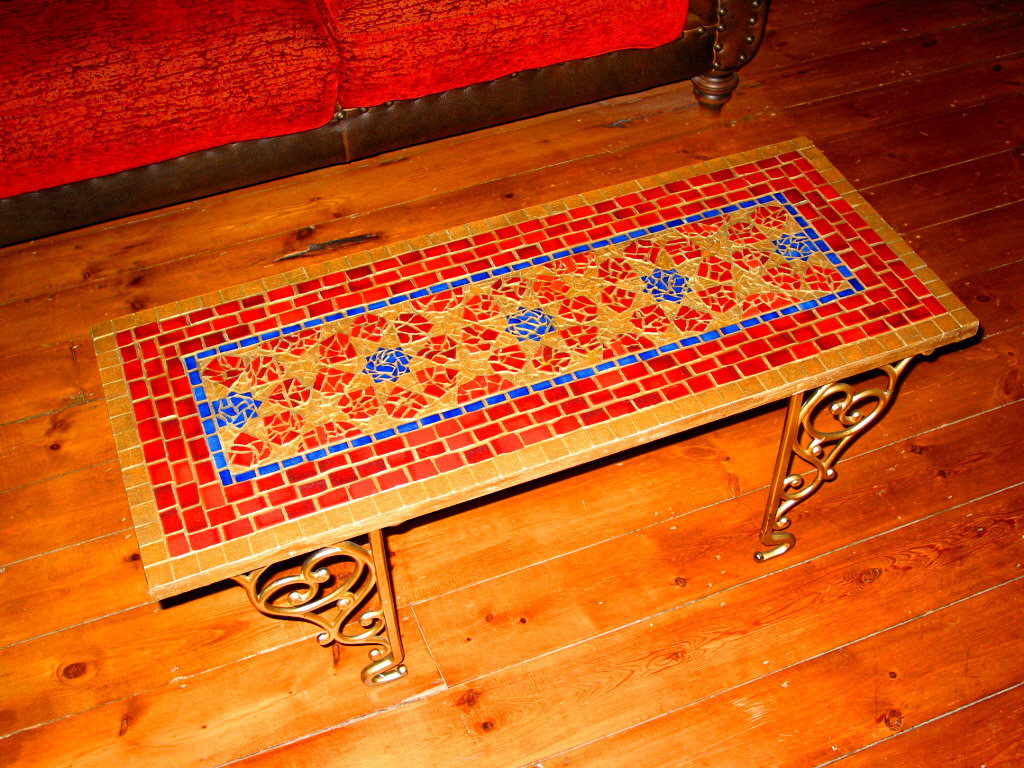 Once friends and family know you are making mosaics, you will find yourself getting offers of leftover tiles. While there is a limit to how many white tiles you can chop us to use, don't forget that you can tile on tile – I use plain white tiles as the base for mosaics all the time – like this one which was a commission made almost entirely by recycled materials…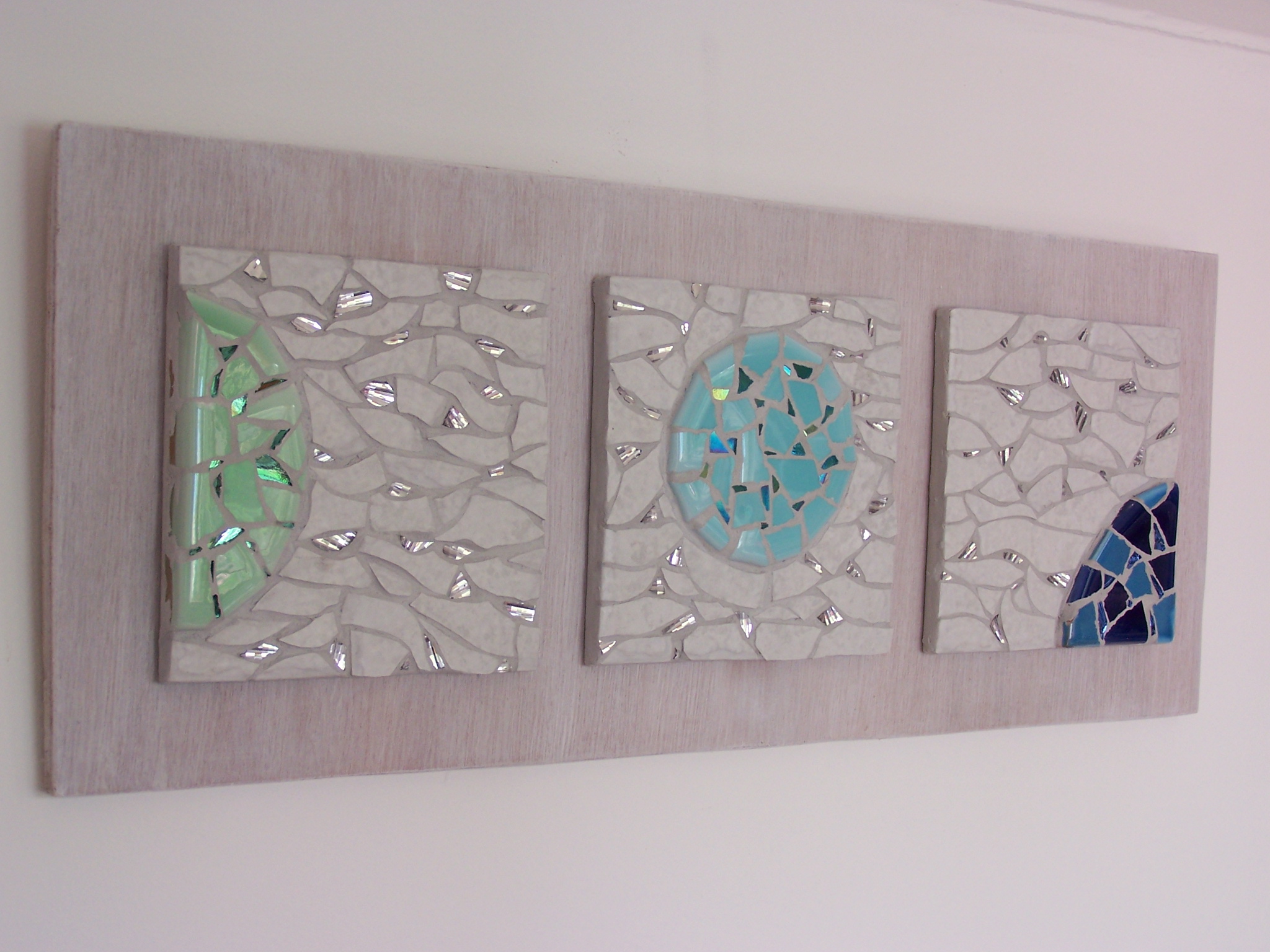 They are also great bases for children to work on…
2. High street stores
Here in the UK, the big DIY stores are now a good source of tiles (ceramic, mosaic) as well as bases (MDF, plywood), including a product that is similar to wedi board (totally waterproof material that is the best for external mosaics). I also buy my glues (PVA / silicone etc..) from DIY stores rather than mosaic suppliers – much cheaper.
In addition, here in the UK, we are lucky to have Topps Tiles, who have a store in most towns and now supply a great range of mosaic tiles, high bling glass tiles and also 15 x15cm ceramic tiles in a wide range of vibrant colours that you can buy just 1 tile at time for less than 30p! Topps Tiles are also great supporters of mosaic art, running an annual Award for Achievement in Mosaics and and Mega Mosaic Makers school competition. Here is my student, Izabela, receiving her prize for being one of the winners of the Topps Tiles 2012 mosaic competition!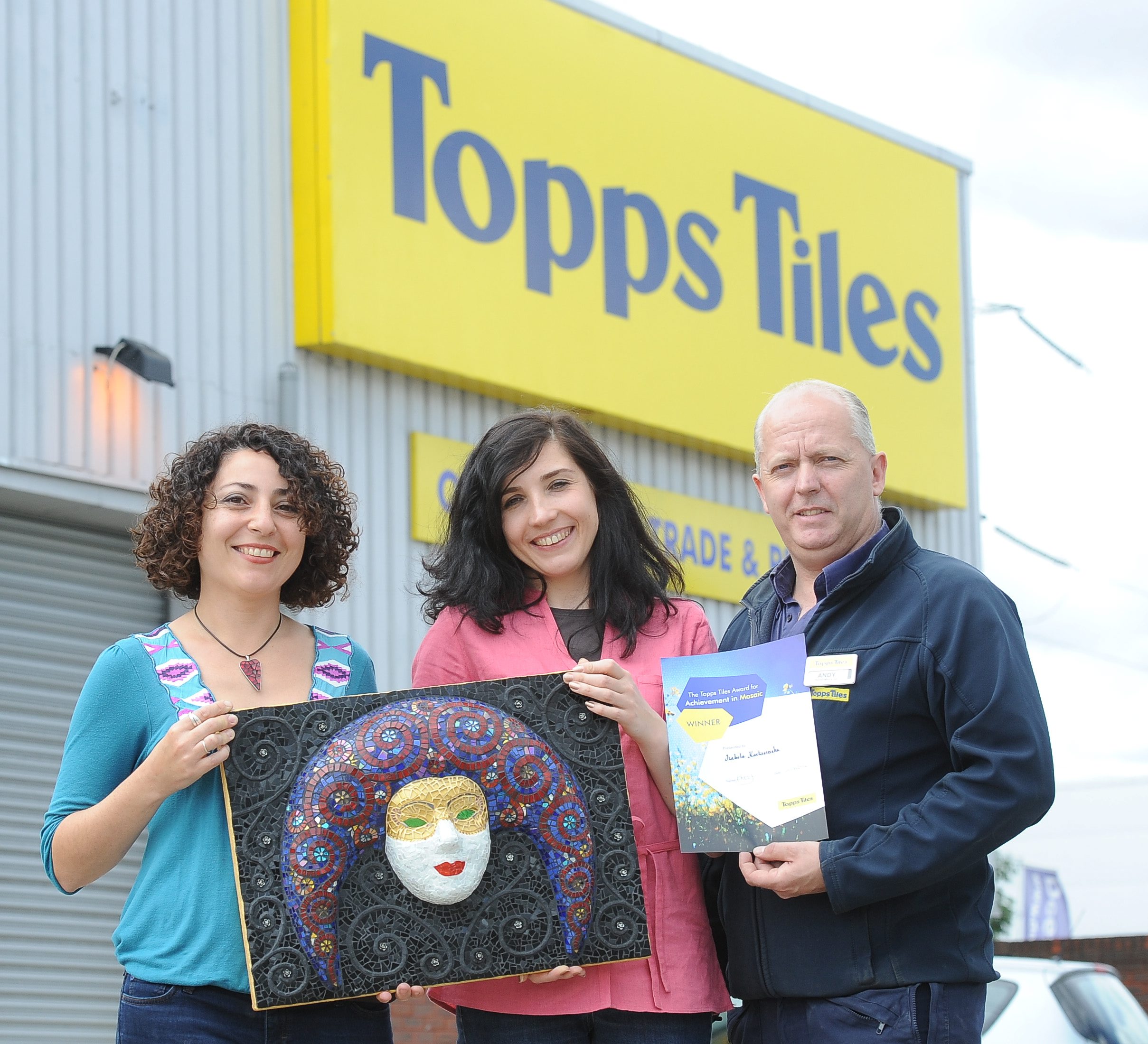 Topps also stock good quality Bal grout and adhesive, cement board and have now added a range of two-wheel cutters (we will be doing a review of these soon!).
Others:
and a link to the wedi board substitute from B&Q.
In the US, I am aware of Home Depot.
If you are outside the UK, perhaps you can add links to high street suppliers in the comments ?
Here in London, we are also super lucky to have Mosaic Workshop, a special mosaic art supply store (originally the baby of the lovely Emma Biggs and Tessa Hunkin). It is an Alladin's cave for mosaic lovers. There is a well trodden path from my studio to Mosaic Workshop, since many of my students appreciate the opportunity to see, touch and feel so many materials before they buy. They also do online ordering (see below).
3. Online mosaic and glass suppliers
I use these a lot. Here's a list from the UK and some international ones I am aware of. Again, feel free to add more in the comments:
UK
Mosaic Wholesale (you need to open a trade account. If not use their sister site Hobby Island Mosaics)
Stained glass (many of the above mosaic suppliers now do stained glass too)

Lead & Light (they also have a shop in North London)
Warm Glass UK (they also do delicous dichroic glass!)
Outside the UK (many ship internationally)
Paul at Mosaic Matters has an international directory of suppliers
Suppliers of good quality Hammer and Hardie Artemarcia
Don't forget…
…Ebay also has many mosaic supplies as well as lots of suppliers of wood blanks and shapes.
4. Bead shops and craft stores
I use jewellery supplies a lot, for example, this mosaic contains Swarowski crystals.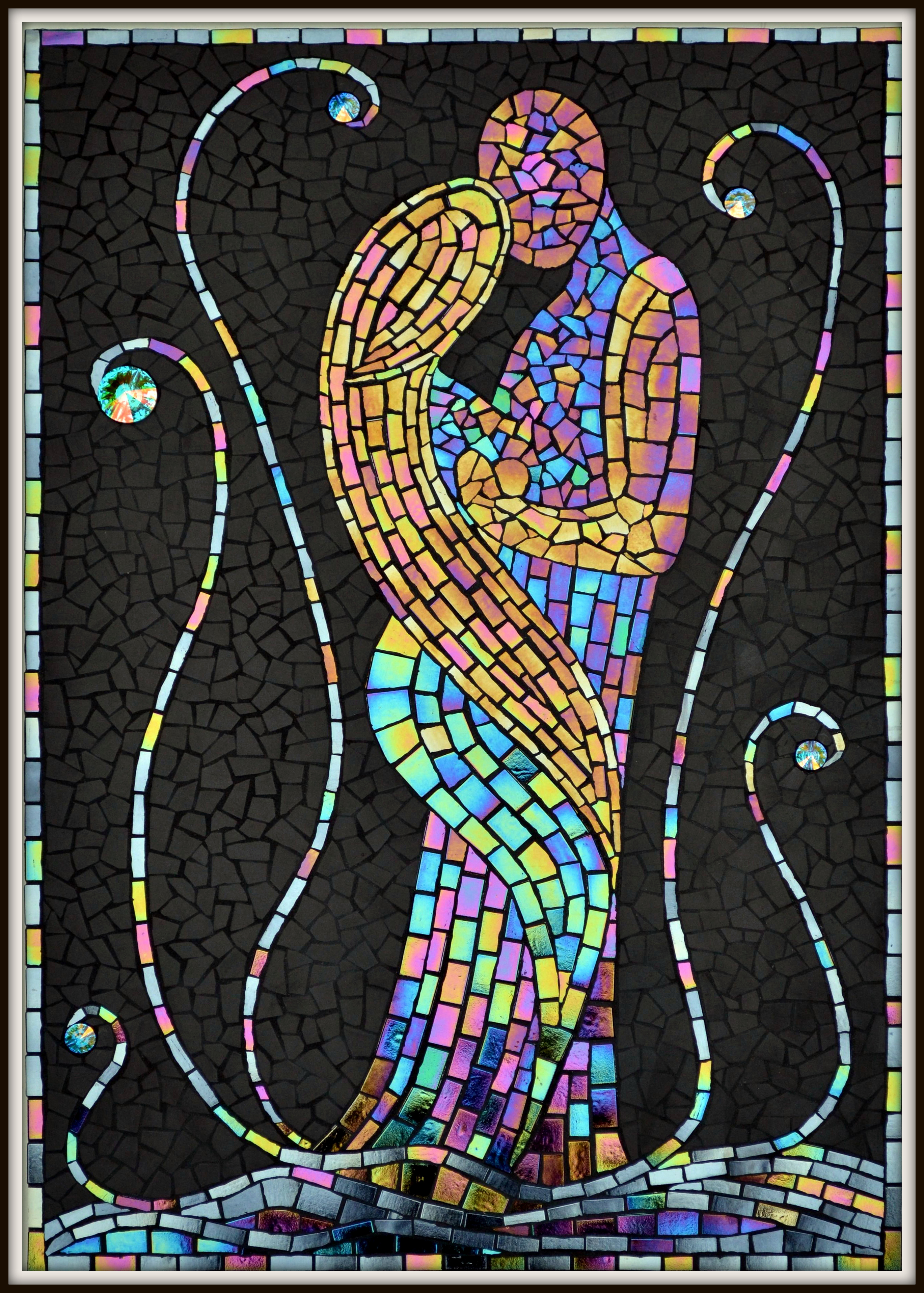 You will find shops in your locality or use online stores (just google jewelery supplies). Here's some I have used:
Jasmine Studios (who also have a shop in Streatham, SW London)
Craft stores, either local ones or national ones like Hobbycraft (both online and stores) also provide good sources of bases such as wooden shapes, polystyrene spheres, jewelery bases and glues. (Personally, I avoid them for mosaic tiles because I think the mark up is way too high).
The DIY section of Wilkinsons is a good place for things like silicone glue and craft tweezers. Pound (dollar) stores also often stock tweezers, glass nuggets, shells etc (though I don't always trust the glue quality from them so be warned!)
5. Charity / thrift stores
Broken china and crockery is a great source of mosaic supplies, either used with other materials or on its own which is a distinct form of mosaic known as picassiette. Cleo Mussi is one of the queens of broken crockery mosaics and my friend Janine, of Smashing Chintz has a unique spin on broken china mosaics.
Broken dishes are turned from a disaster to an opportunity and visits to charity shops, boot sales and flea markets take on a totally different meaning. Recycling at its best!
More Lists and Links to come…including unusual materials for mosaic making!