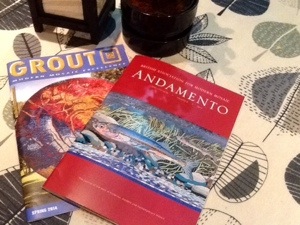 A nice thud landed on my doormat this week, a double edition from BAMM (the British mosaic association) with lots of lovely mosaic eye candy, informative articles and mosaic news from around the UK. This edition of Grout magazine includes an article I wrote about the process and challenges of making the Topps Tiles mosaic tree (see here and here) and the journal, Andamento, carries four in depth articles on varied topics.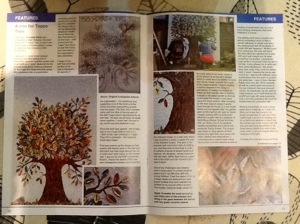 I particularly enjoyed the interview with Elaine Goodwin, one of the UK's leading mosaicists whom I met at my first ever exhibition 10 years ago. Then a slightly nervous newcomer, she was a real encouragement to me. I was particularly interested to read about her own journey in mosaics and the depth with which she has pursued the concepts of light, reflectivity and spirituality within her work.
The other article that captured my attention was by the lovely Nancie Mills Pipgras from the internationally acclaimed Mosaic Art Now (worth regular visits and subscribing to the newsletter) who tells the story of the incredible community mosaic venture spearheaded by Isadora Paz Lopez in Chile where 4000 square metres of urban concrete jungle has been covered in exquisite mosaic in an extraordinary feat of artistic vision and endurance.
Do click on the above links as they provide varied inspiration for mosaic makers and lovers – and you can get these publications by becoming a member of BAMM – it is open to all irrespective of level of mosaic practice of country or residence.
Enjoy!