(This is a re-post as I just re-read it and it makes me smile!!)
Or asked another way, how much fun do you allow yourself to have?
I'm a hard working kind of girl and often get teased by my beloved for being too serious. A 'World on My Shoulders' kind of  thing has been at work through most of my adult life – a tendency to focus on my responsibilities at a cost to relaxing and having fun. When you need to work hard at relaxing, you know you something is not quite right eh?
I am trusting that I am not too alone in this?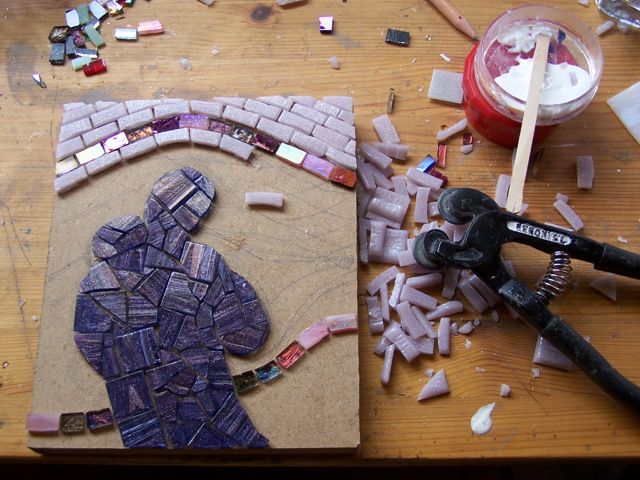 However, I consider myself lucky.  I love what I do. My work merges easily with creative play. But my work is still hard work and the responsibility (of delivering projects on time, to a high standard, on budget, with a process that is good for me and fulfilling for those involved) stays on my shoulders until its all done, polished and complete. And that's not to mention business development, keeping on top of admin, developing myself as an artist, parenting and running a household and allotment!
It is true, I don't find it easy to relax in the midst of my responsibilities so (unless someone can whisk me away to a desert island) I have to find ways of having fun in the middle of it all.
Enter two little children…my teachers in play.
How much fun can you have with Mummy's stuff while she is working?
"Ooh! Look! Giant letters! Seven of them!"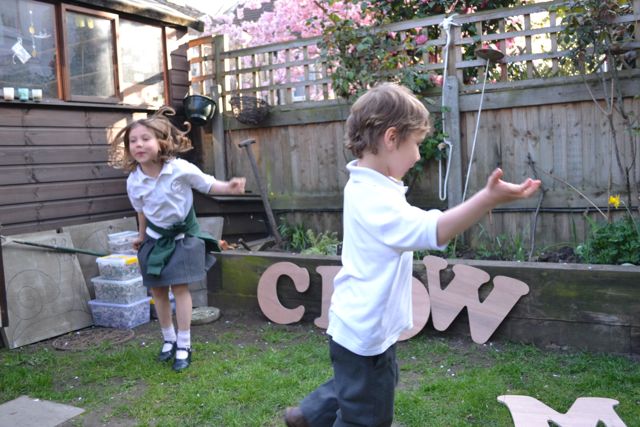 "Lets play, lets play"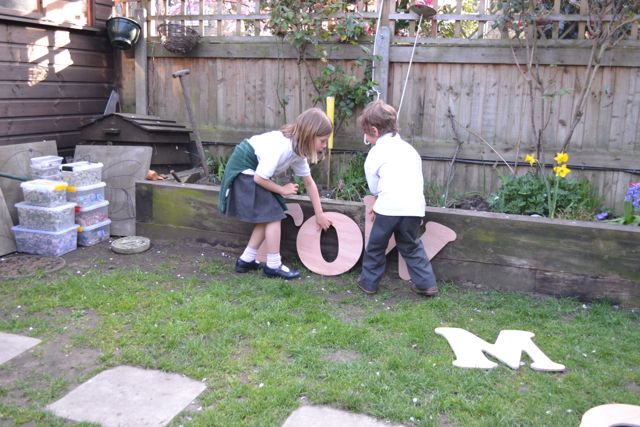 How many words can we make?"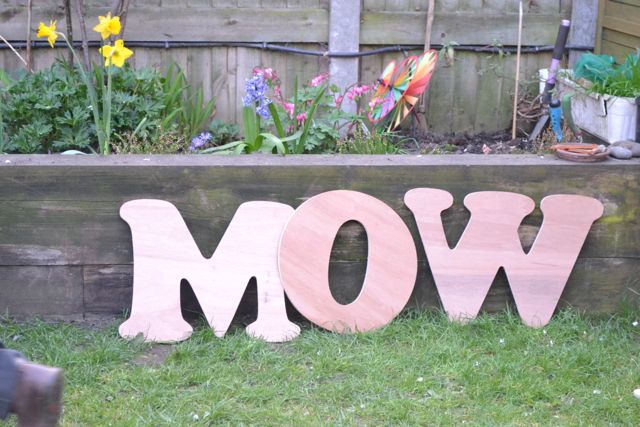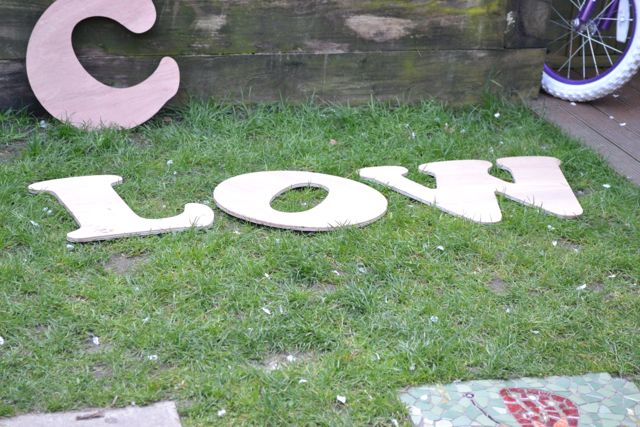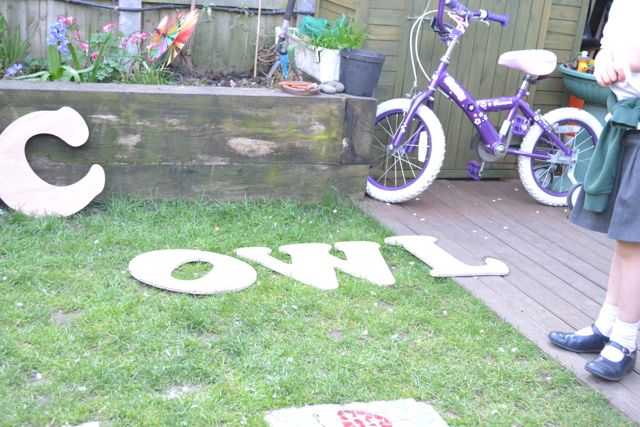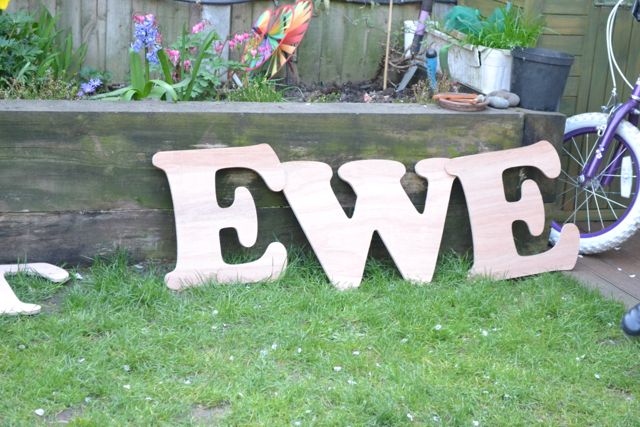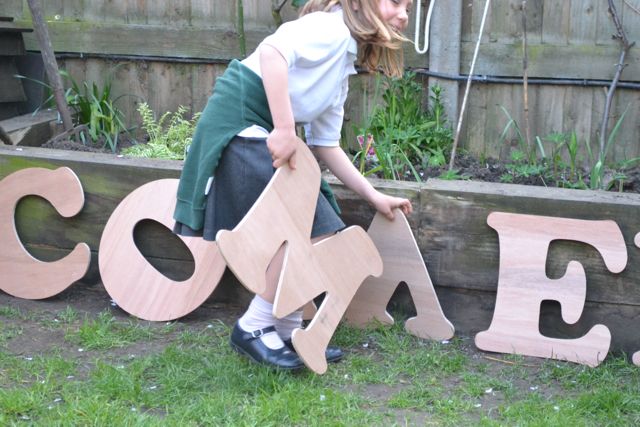 And so, in the midst of all my (very serious) preparation for a community mosaic project, there ensued half an hour of very funny, high energy running backwards and forwards, re-arranging the letters to see how many words they could magic.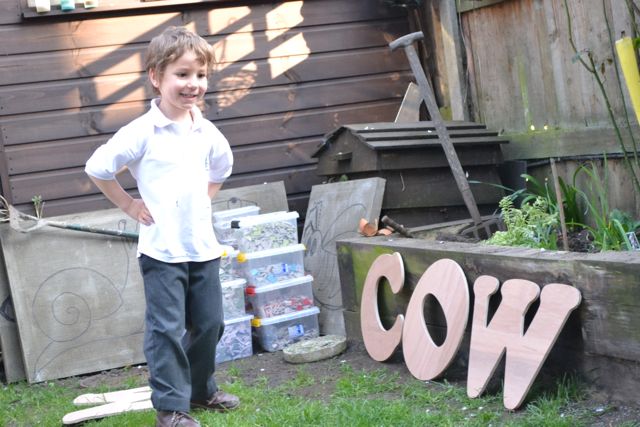 And inventing new words.
And turning letters upside down to make letters that were not there to start with!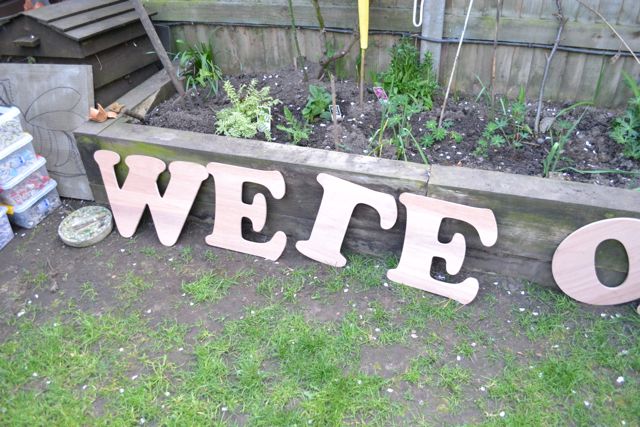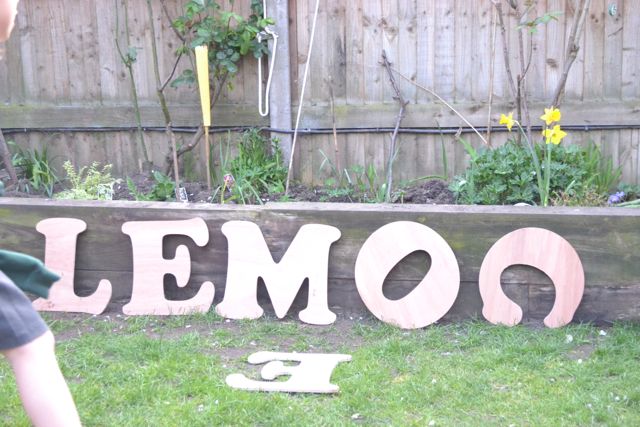 They giggled, I laughed. How much fun can you have with seven giant letters?
When it was all over, we sighed that contended sigh that is an exhale of tension and an inhale of joy.
And hey, my kiddies 'invented' a fabulous, new, literacy enhancing activity! Parents and educators out there, take note! Get some cardboard and cut yourselves giant letters – they have to be giant – and watch your kids have fun and learn. Then decorate them. Double fun!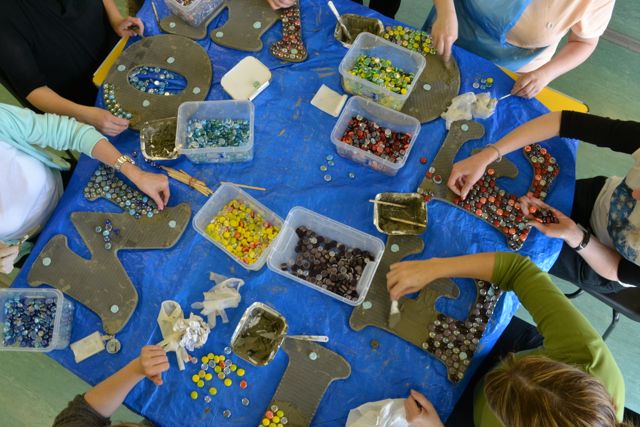 These particular letters have since entered further realms of creative play last week, as 8 women sat round a table together, enjoying the process of sticking beautiful glass to the letters, discussing all manner of things from favourite colours to parenting – in that easy, relaxed atmosphere that making together creates.