I'm so glad you have clicked on this page because one of my aims in life is to create mosaic addicts! There is something here for you whether you are brand new to mosaics, experienced, live nearby or far away…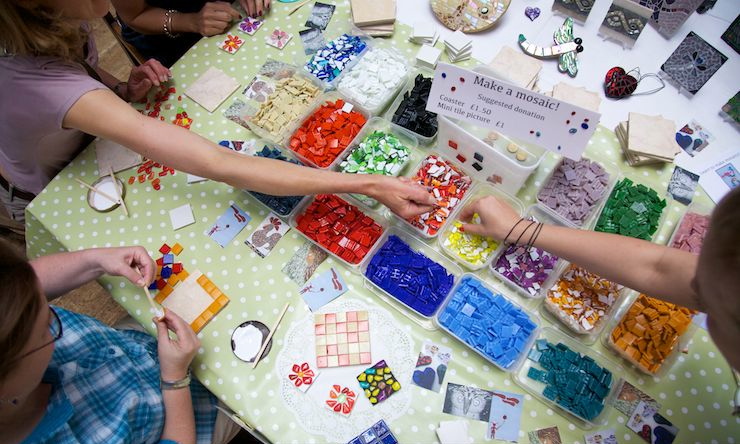 If you are just exploring whether or not to learn mosaics, I have various mosaic courses based in south London (scheduled and bespoke) and weekly drop-in's available to you. Click on Mosaic Workshops in the menu and you will see a description of them and a calendar of dates. Do read the quotes from previous students as it will show you what an amazing, fulfilling art form this is to learn.
If you are already hooked then I would be delighted to welcome you on my south London mosaic workshops or drop in's. My approach is to teach students everything I know, so you can dive in at a more advanced level and I will be there to help, encourage and challenge you!
I also regularly run one off workshops at fairs so keep a lookout in the Events & Exhibitions page and do get in touch if you are an event organiser and would like a mosaic workshop at your event.
There is a whole page on Making Mosaics with Children in the main menu. With two little ones of my own (already hooked), there will be much more resources going into this page over the months and years!
Lastly, whether you live nearby or far away, you will find lots of information and resources to help you in mosaic making in the Tips and Resources for Mosaic Makers section of the menu. DO watch this space as there will be some exciting developments in this area for those of you who wish to have an online source of learning mosaics.