Our family mosaic project for the year is to make a mosaic tree – 12 branches and 365 leaves – each leaf depicting the weather for that day of the year.
We have kept it simple – yellow for days that are mostly sunny; blue (a lovely gold veined one) for days that are mostly rainy; grey (irridescent) for cloudy days; silver glitter tiles for snowy frosty days (we are expecting a few of those in the next week).  I will start working on the background soon (and hopefully finish the branches too).
Here's how January looked!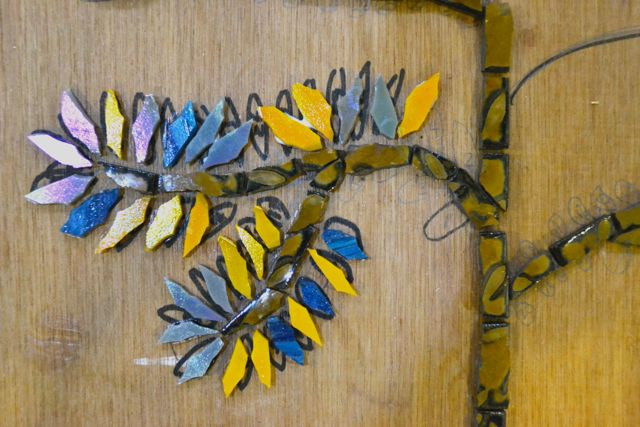 Not too rainy for London! I have been spending the cloudy and sunny days being a very busy bee this month. On top of doing proposals and tax returns (done, yipee!), I have been working on a new commission for a local school making 6 large mosaic insects for the playground. The bases are now cut out and very nearly ready to mosaic on (wedi board on external ply for re-enforcement, edges and back with 3 layers of outdoor varnish).  As usual, scaling up and drawing (I do this freehand) takes longer than I imagine. On top of waiting for each layer of varnish to dry, I am itching to start sticking tiles but reminding myself that good preparation is paramount! Pics to come.
I have also started a new piece for an exhibition in the summer – I am loving it. Here's a sneak peek and I will do a proper work-in-progress post later this week.