Hi folks! Its been a great few weeks here at Glittering Shards. A fantastic commission to restore a beautiful and historic mosaic fireplace made with semi-precious stones has been completed (hope to post pics soon). I am hugging my lovely Inland Diamond band saw that did its job beautifully because without it, this restoration would not have been possible (I was a little worried since the machine had to go back to America in the summer – not long out of its box – to have its engine replaced!).  The Wandsworth Artists Open House has also come and gone, with 190 visitors over two weekends – wow! Thanks to those of you who came from near and far – it was a privilege to show people round my studio – the tools, the materials, the process, the art and jewelry – and to run little workshops throughout the 4 days. Here's to Open House 2014!
In the midst of all this, a juicy envelope landed on my doorstep, with the results of the 2013 Award for Achievement in Mosaics run by the lovely people at Topps Tiles to encourage learning in mosaic. Mosaic course teachers such as myself can submit a portfolio of work by their students who are new to mosaic,  from which one is selected to go through to the national round. Here are the entries from the Glittering Shards gang! I am sure you will agree that they are all stunning and a great example of what can be achieved in mosaic with a little encouragement and support…
Clapham Common by Bertie Patel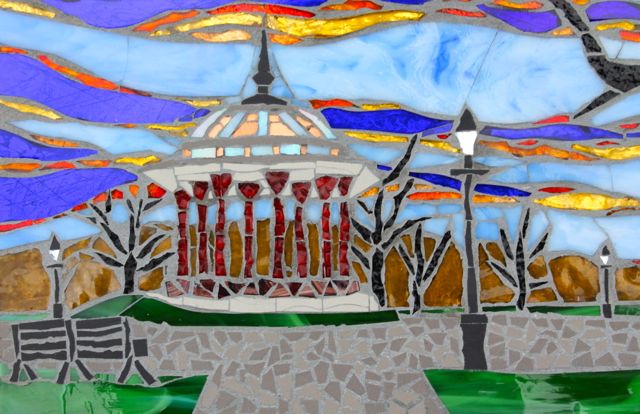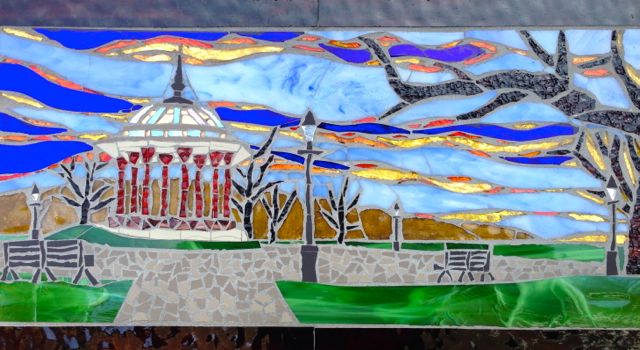 Pohutukawa by Jen Ryan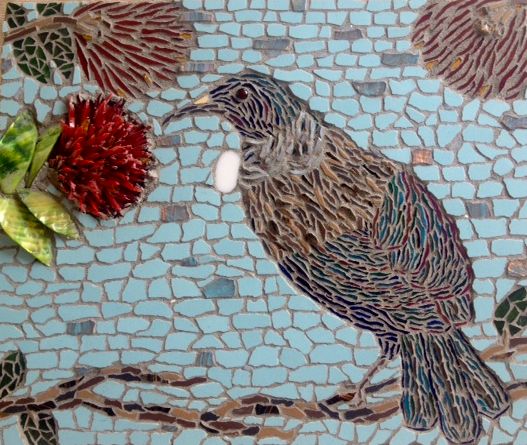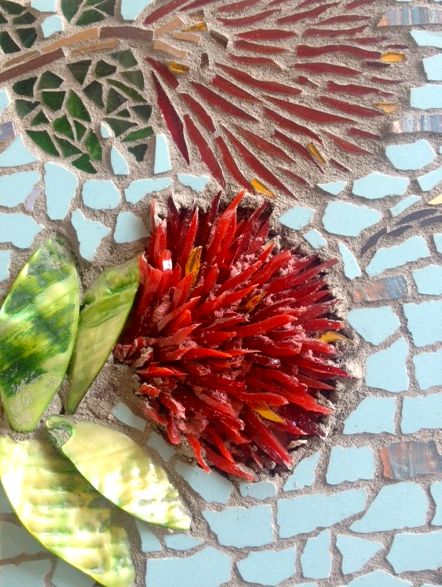 Red Dancer by Jyoti Dias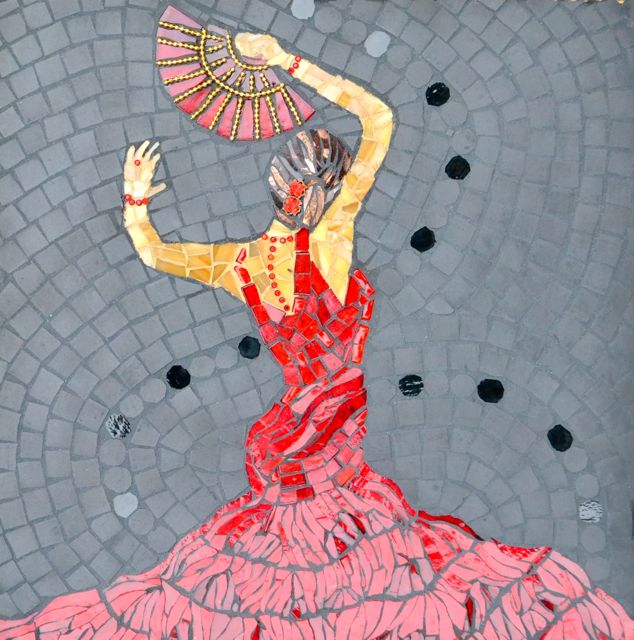 Tapestry by Viki Whitehead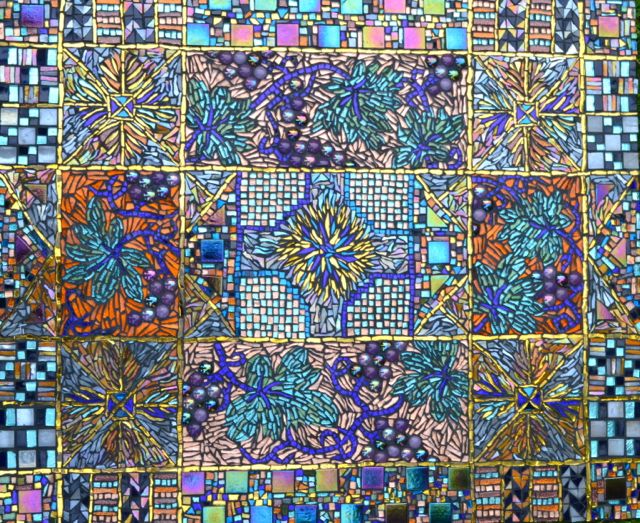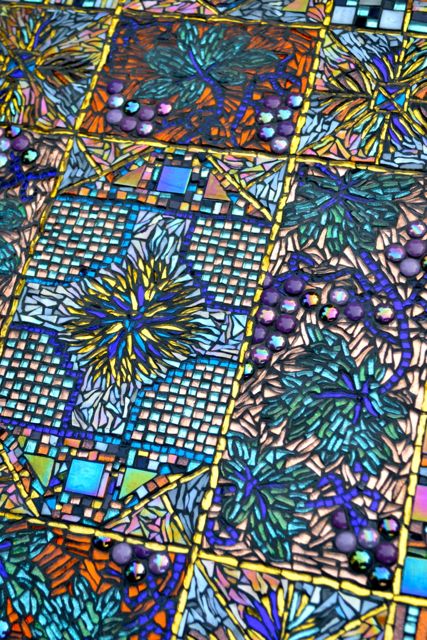 Phoenix by Janet Hill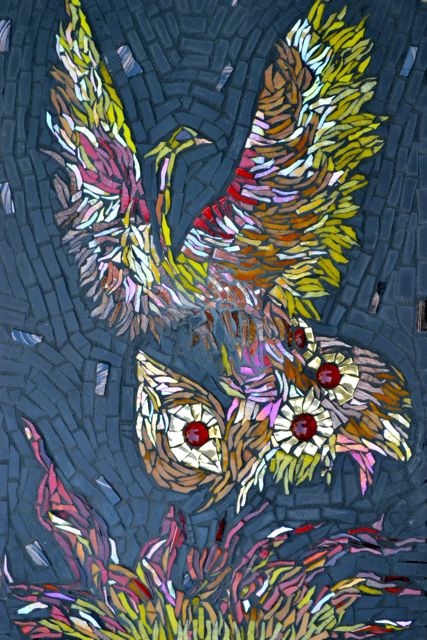 Toy Box by Anna Smith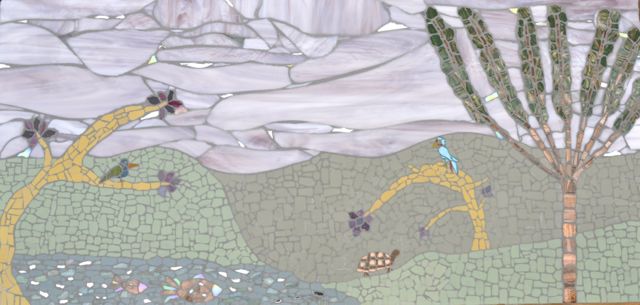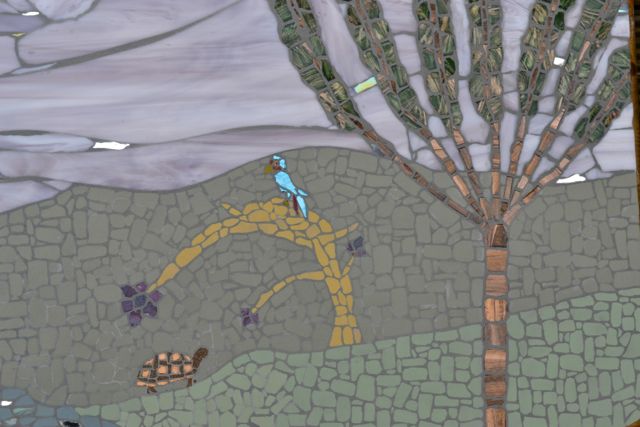 And the winner is…..Janet Hill for her wonderful Phoenix! The judge, David Tuhill (lecturer at Royal College of Art) had the following to say about "Phoenix"
"You have certainly captured the spirit of this mythical bird. The lines of the background echo and reinforce the upright forceful movement of the wings. The sparkly touches accentuate the fiery effect. The delicate finesse in the details of the neck and head truly bring the bird to life. The wings spread out and rendered with such fine shaped mosaics have amazing power. This phoenix is defiantly rising from the flames dancing convincingly below. This is truly fine art at the highest level and you certainly deserve the Topps Tiles award Janet."
Well done Janet! And a huge congratulations to all my students in the last year. As a teacher of mosaics, I know how hard people have to work and how much they have to persist and be patient – putting up with a teacher that encourages an eye for detail and the importance of trying things again and again to get the desired result (we do a whole section on unsticking you know!!).
As I have said many times,  teaching mosaics is so very rewarding for me – watching people start, stumble and then fly, finding their own style and their own voice. Just wonderful…