One of the things I teach in my class is to embody feeling in your mosaic. Of course, you do this partly by your choice of colours and tone. But in mosaics, special attention goes to the shape, layout and texture of tiles as well as the effect of grout lines and the gaps and connections between the tiles. The question to ask yourself at those points where you are making decisions (shape, colour, flow…) is "What feeling am I trying to create? Does the shape / layout  of the tiles I am thinking of embody that feeling?"
Here is a piece I have just finished that is unusual for me as those of you who follow my work will easily spot!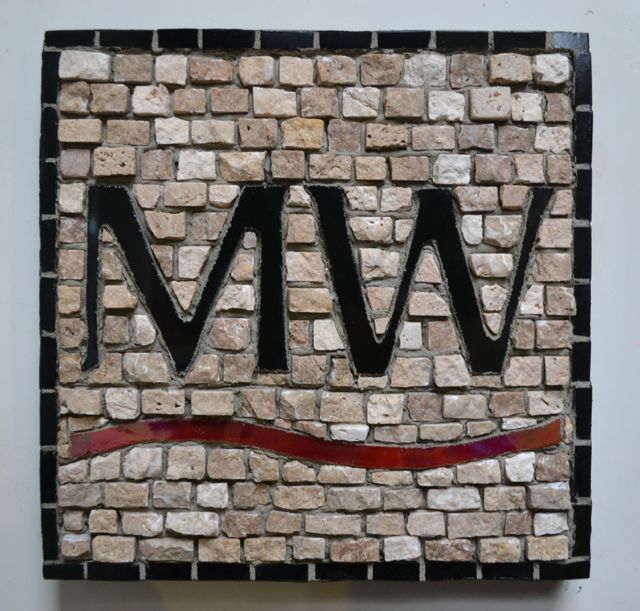 This is the first of 15 mosaics for a regional firm of lawyers, so the feeling had to be one of reliability, stability, established presence – more decorum than I would normally embody in my mosaics perhaps! So I chose stone, in a classical, neutral colour and I laid out the background in the opus tesselatum andamento (flow of tiles). That rings true for a lawyer's firm doesn't it?!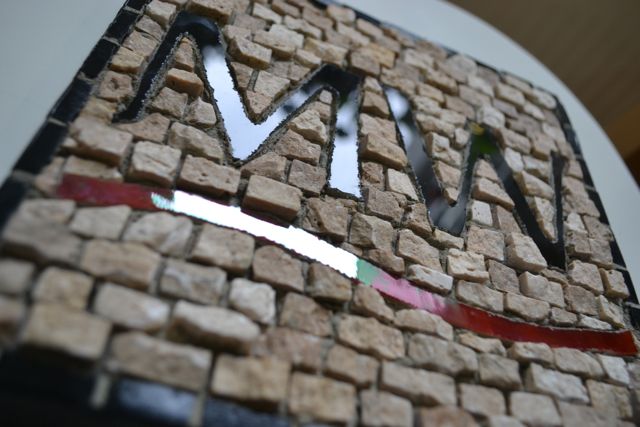 However, I could not stop there – I had to add a little something – so I chose to use stained glass to cut out the logo, using my gorgeous new Taurus Ring Saw. And the burgundy strip just had to be irridescent because this girl loves a bit of bling even in the midst of the corporate respectability. It is an ungrouted mosaic using cement adhesive – it adds to the 'brick wall' feel and I could build the glue up under the stained glass so it was not too recessed.
The tiles are made of travertine stone from Topps Tiles and because of that, I have been able to enter it into a competition.
Would you vote for me?
I promise it won't take you more than a few seconds!  Just follow this link then click on the vote button – that's it! If I get into the top 10 by 17th May, I will go into the judges finals! Please do share the link on your FB / Twitter too. Thanks friends!