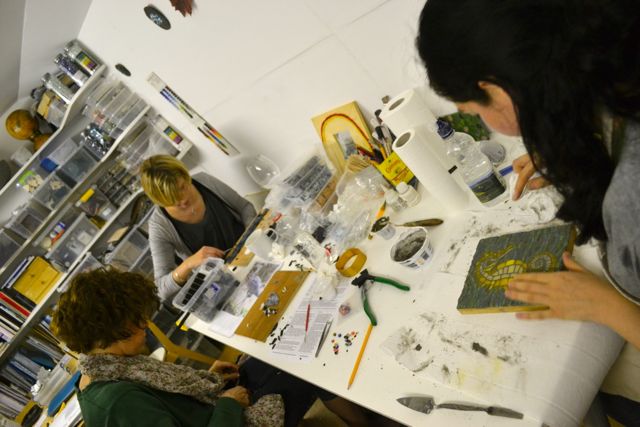 Do you want to get started on a new mosaic – be that your first or your 50th?
Want some support on a mosaic you have already begun?
Feel stuck and want help to get started again?
Need some challenge and inspiration?
The weekly Mosaic Drop-ins that I have been running for nearly 4 years will now include an exciting new programme! These classes are for anyone who wants to get started,  improve, be challenged and inspired by by mosaic and mixed-media.
The Drop-ins run every Thursday (term time) and you can come when you like – but you must pre-book the day before as places are limited.
Arrive 9:45am for tea / coffee and a prompt 10am start for 2 hours til 12pm. The first half hour or so is dedicated to getting one-to-one input for what you are making / hoping to make and gaining inspiration from each others work. The remaining 1.5 hours of the drop-in is focussed on making and facilitated discussion (see below).
Every time you come to a drop-in, bring your own work .  This can be:
some cuttings that inspire you or some materials or images that may be the starting point of a new creative work
sketchbook and pencils for doodling and designing new work
materials to cut (you will get help with cutting skills in a range of materials)
a piece of work that you have already begun that you want to work on during the drop-in
completed pieces that you would like to get the group's feedback on
Your own making (with plentiful advice, tips and tricks) is done alongside a facilitated programme of learning and discussion (you are welcome to just listen!).  The monthly drop-in programme  includes:
Mosaic Muse Drop-in – 1st Thurs of the month.
Alongside your making, we will look at the work of other artists and makers to gain inspiration, ideas and technical insight. You are welcome to bring photos or your own or others work to share with the group. Next one is Feb 6th
Mosaic Challenge Drop-in – 2nd Thurs of the month.
A set challenge every month to develop your skill in mosaic making! As well as trying something new (or old in a new way!) you will have the chance to make your own sample boards and experiment. The  Mosaic Challenge Page will list the current challenge and I will email the challenge to those on my Drop-in email list a week before. Next one is Feb 13th
Art and Soul Drop-in – 4th Thursday of the month. 
Alongside your making, there will be monthly discussions on topics such as developing as an artists, the role of mosaics (& art) in personal and social transformation, creativity, work/art balance and developing a soulful business.  You will be encouraged to create your own Art & Soul Journal if you wish. Next one is Feb 30th.
Mosaic Flow Drop-In – 3rd and 5th Thursdays
Twice a month, we will create space for concentrated mosaic making so that you can really 'get into the flow'.
Cost is £15 per session or £60 for a 5 week class pass (£12 per 2 hour session). The class passes have no expiry date. You provide your own bases, materials, glues etc.. though you have access to my supplies for purchase.
To book,  text 07960 109860 or email the day before you wish to attend to check there is space. You can pay on the day. If you are on my Drop-in email list, I will send you a weekly reminder of the forthcoming week's programme and what you may need to bring. Send an email to concetta@glitteringshards.com to make sure you are on my Drop-in email list.