I have mused for years about why mosaic making is so therapeutic an art form. Having recently undertaken the process of applying for a Masters in the Neuroscience of Mindfulness (with research on the role of creative making), I took some time to organise my thoughts on the subject.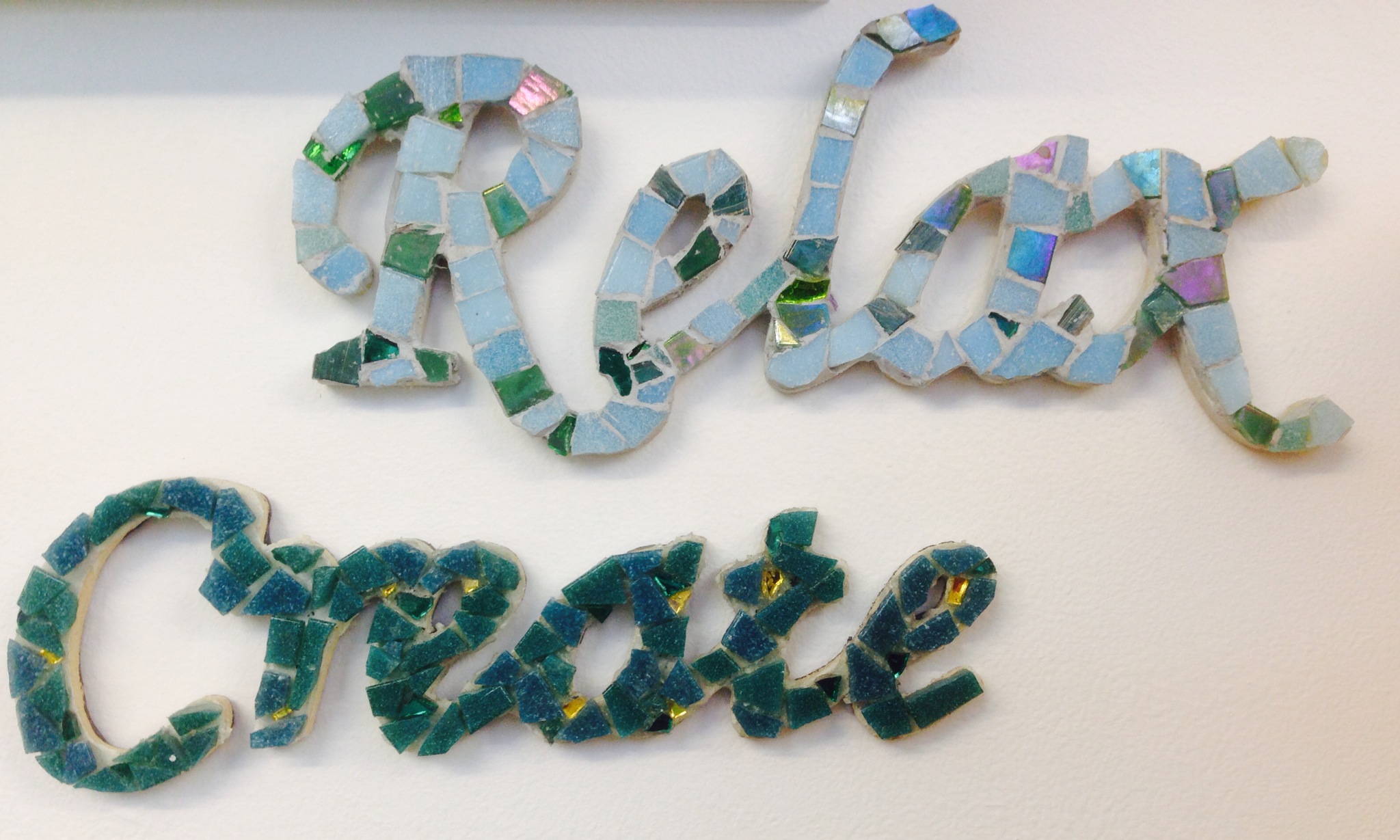 The reasons are likely to be varied and intertwined in different ways. There is little scientific research on why art making generally, let alone mosaics in particular, is effective in bringing about positive neuropsychological change (a theme for a Masters thesis maybe?!)  My musings lead me to consider that the therapeutic nature of mosaics is in the essence of the making process (slow, meditative, absorbing, physical, bringing together mind and body) as well as in the symbolism of the mosaic medium (making a whole from disparate, broken parts). Perhaps, by expressing ourselves in mosaic, we are also externalizing those intangible internal processes that go on within us by using the most solid and tangible of art forms?  This last point was beautifully illustrated by the words of one of my mosaic students about her experience of creating her first mosaic:
"Creating this mosaic was unexpectedly therapeutic for me. The image is of a tree shedding its leaves in autumn, symbolic of transition (I  am in a period of transition which has led me to give up a career I once loved, so it hasn't felt easy). I think the choice of image was the starting point of the therapeutic process. I had a really clear idea of how I wanted key elements of the picture to appear. For example, it was important that the tree, representing a person (or myself), should appear really vibrant and strong. The falling leaves represent the shedding of the old garb / way of life and it was important to me that the leaves – and the image as a whole – should appear beautiful, ie: transition is a natural part of life, is a beautiful process and essential in order to give way to new life. I have also tried to evoke a sense of wind (life's forces) and the tree, although strong and solid, is slightly slanted as if bent in the wind. I have tried to make the sky to the top right slightly brighter as if the sunshine is trying to poke through, ie: bright and positive things are to come.   The process of thinking about and creating the elements of the mosaic has helped me to better accept and enjoy the period I'm in and ultimately be more forward looking. I certainly got more than I bargained for!".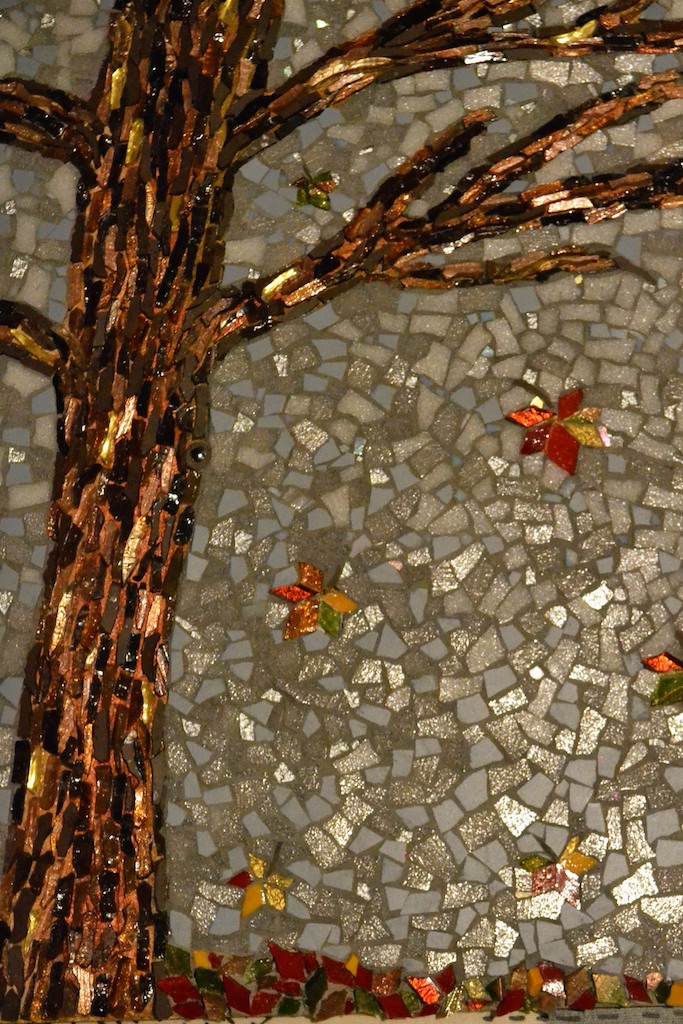 In conversation with this student, she spoke about how the process of making – the choices she had, the slowness of it, how absorbed she became in making, how meditative she found it – were so much intertwined with its therapeutic benefit. Her words arrived in my inbox the evening before my interview at Kings College London. My head was in books, examining the role of art-making in creating a state of mindfulness and well-being and her timing could not have been better!
Having taught mosaics for many years, with 100's of students having passed through the glittery shards of my classes and workshops, I now smile in recognition at how almost everybody exhales the words "This is soooo therapeutic!" when they begin to mosaic – an experience I am sure I share with mosaic teachers all over the world.
I loved the comment by one  participant in my Mosaic Taster workshop the other day, who said, quite simply,
"This is very good for the head, isn't it?
Its the first time I have relaxed all week!"
Having taught mosaics to community groups such as refugees, families at risk, abuse survivors and also many helping professionals and  'Joe Bloggs' on my courses, I know that there are a multitude more such stories.
And that is where you come in!
Do you have your own story of how mosaic making has helped you?
Have you found mosaic making to be therapeutic, calming or meditative?
Do you use mosaic to deal with stress, change and difficult feelings or memories?
Do you have a story of how mosaic making has supported you through difficult times (be that the process of making, the symbolism of the mosaics or what the finished mosaic meant to you)?
Has mosaic making increased your sense of well-ness, of YOU-ness? Has it helped you to feel more connected, more related?
If you are a mosaic teacher, do you have similar stories?
If yes, I would be honoured to read your story. My hope is to publish a book of stories about the transforming potential of  mosaic making.
But at this stage I am just putting out a call and collating stories. I will not publish anything without your permission (anonymous contributions are fine).
You can send stories – be they a couple of sentences or long pieces of writing (with or without pictures) by:
1. Writing in the comments of this blog post which is immediately visible to any reader
2. Emailing me privately at concetta@glitteringshards.com
Please feel free to put out this call on your own networks / Facebook pages etc..
Thank you!