For those of you new to Glittering Shards, this site explores mosaics, art and soulful, creative living. My blog posts are categorized in this way (see column on the right) and I write them from the heart because these are things that motivate me.   Its true to say that 'Mosaic Loving' has featured the most so far this year because…well, my life has been so mosaic-full. I have created 5 large school mosaics to commission in three months and have fully prepared for a large community garden mosaic project that is now well underway. Phew!
After the crazy, full on busyness of my mosaic work, it was so restorative to change the pace completely over the Easter weekend with a trip to the forest…camping.

Camping was not part of my childhood. All our family holidays were spent in southern Italy, by the sea, in the warm, warm sunshine. No complaints there. At all.
At the age of 17, I camped for the first time at a festival, and loved it. This continued almost every year – until our children arrived.  Being rather sleep deprived, the idea of being woken at 1am by drunken guitar playing and then at 5.30am by a child crying in a nearby tent just didn't do it for me. In 2010 however, we decided to be brave and borrowed a friend's family tent. Arriving at the festival at dusk, I recall trying to pump up all our air beds whilst our two toddlers jumped up and down on them, yo-yoing from hyper-excitement to tired and hungry whining. With no beds ready, no cooker set up and no light to see by to find pyjamas, I sighed to my husband "Why oh why are we doing this to ourselves?".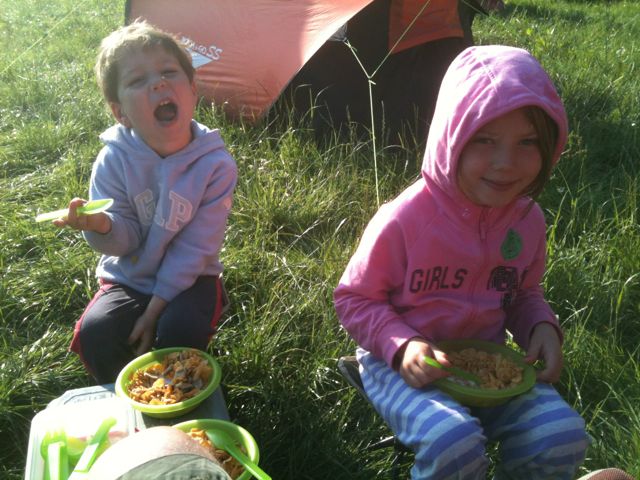 The following nights nearly sounded a death knell to any future family camping exploits. Woefully unprepared for the late-August drop in temperatures, we spent three nights practically awake as, no matter how many layers we put on, our bodies would not get warm enough for deep sleep. As we left the campsite, I vowed, "Never again".  However, I remember walking round the festival, with over 20,000 campers, and had a suspicion that with the right mind-set and equipment, there was something special to be had in this camping thing.
Fast-forward to spring 2011. I met up with an old school friend who I had not seen since I was 14. We talked about our families and she told me that, of all the holidays they had taken with their (now older) boys (many in plush exotic locations), the one her children still talked about was camping on a UK farm. This coincided with (serendipitous) chats with two sets of friends who had each bought camper vans and sung the praises of camping holidays. So we decided we would explore this route and see if there was anything in it for us. However, our  hippy dreams of VW ownership soon ended as we realised that living in a terraced London house, with no driveway or garage, made owning a camper van a bit of a no-no.
Recalling the images of the many well-equipped and rather grand looking tents at the previous year's festival, I sent an email to our local neighbourhood forum (where we exchange goods, services, recommendations etc…) asking if anyone could offer up some wisdom about why we should get into family camping and what tents / equipment could be recommended if we did. The flurry of emails that followed were heartwarming and convincing. As well as people advising on types of tents (rather perplexing if you are a novice), and what equipment to take / not take, many recounted wonderful experiences of holidays by the sea and in forests. One lady ended her email asking "Why would you not?"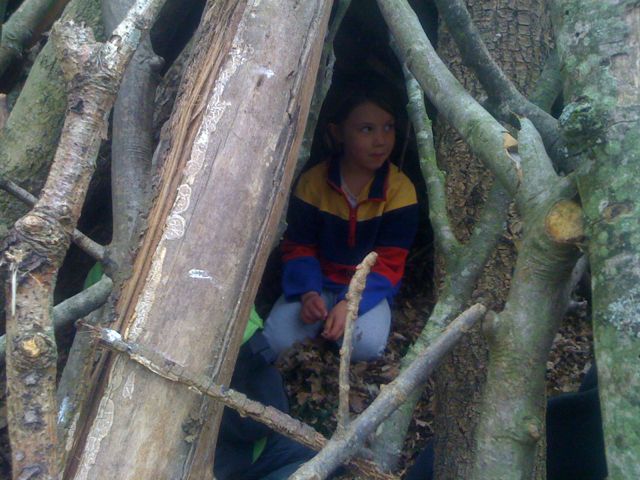 Armed with a list of essential equipment to buy and a growing motivation to be 'happy campers' we started researching tents. Tunnel or pod? Porch or no porch? Steel poles or fibreglass? Thank goodness for the internet, for mumsnet and for lovely people who post reviews!  We soon fell in love with the idea of the Outwell Montana but were faced with the dilemma – should we fork out a lot of money buying a good quality tent / equipment so that we could camp comfortably before we knew that we would really like being a camping family?
Easter 2011 came and we went to Stroud to stay with friends, who suggested a trip to a large camping store nearby where all the tents are put up so you can walk into them and look around. We arrived at 4.30pm to find that they were running a competition to win £300 of store vouchers. I dived into the wind pod which, for 1 minute, blew lots of small tickets round my head. The challenge was to catch the most tickets.  An hour later, we were holding a £300 voucher in our hands and our fate as a camping family was sealed!
One year and 4 camping trips on, we are still learning but totally enjoying our camping experiences. (For those who are interested, we ended up buying a Vango Maritsa 600). So here's my summary of the pros…and cons…of camping with children:
The Pros
1. Camping slows us down. On a regular holiday, it is easy to take your busy, scheduling head with you as you try and squeeze in visits / sightseeing. There is a pressure to make the most of all the holiday has to offer. I have found that when we are camping, our agenda is very simple. We aim to crawl out of our tent (still in pyjamas), light a fire and make breakfast by 11am. The days are filled with card games, walks and lots of lolling around. The evenings are spent round the fire chatting. The aim of the game is to do little but the essentials and just be – present to yourself, your kids, your partner. That's all. For us that live in this crazy, fast-paced, urban life, camping is like putting the handbrake on. It forces you to slow down. Slowing down is good for the soul (see here and here and here).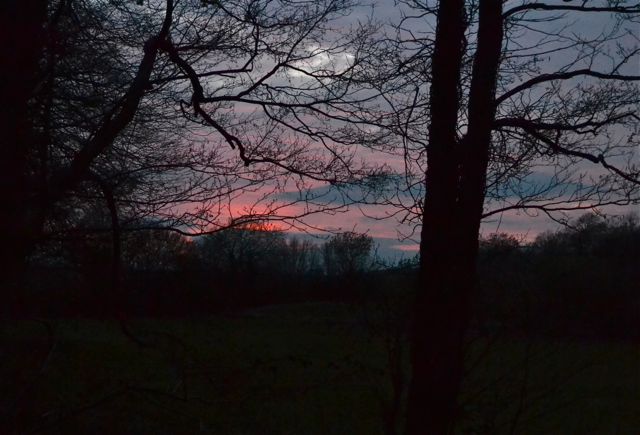 2. Camping re-connects us to nature. The smell of grassy fields and the forest air as the dew descends in the evening, of the wild garlic growing right by your tent. The feel of the elements on your skin (oh yes) and the contrast of warm fire to cold air.   The awesome sunsets. The sound of the wind tugging the guy ropes, the rain pattering on canvas and the dawn chorus. I had never heard the dawn chorus in a forest until our recent camping trip. Loud, so loud! So beautiful, though I could have passed on my daughter waking me at 4.30am to tell me that the noisy birds had woken her! Fortunately we all went back to sleep to the lullaby of the birds. The next morning my son said "Mummy, I was listening to the birds. Guess what one of the birds says? He says 'Ba-boogy, Ba-boogy!'.  I am going to miss Ba-boogy when we go home." (Too cute). That evening, as the kids slept all snuggly in the tent, hubby and I sat by the open fire, whisky in hand. It had been cloudy all day and suddenly, a star appeared, then another and another until the sky was clear and peppered with bright stars, Venus visible to the naked eye. Through  the trees, a big, full, yellow moon emerged. We stared, taking it all in. Precious.
3. Camping is good for children's independence. For those of us who live in built-up areas, the dangers of traffic and such like means that our children are rarely out of our sight. Camping is a great antidote to 'helicopter parenting'. No cars, open spaces, lots of children around, the older ones looking out for the younger ones. Last summer, for the first time, our children went off, chests filled with pride, without a grown-up (to the toilet block 200 metres away!).  This recent camping trip, they wondered further afield, playing in tree swings with other children. All part of the small steps to independence…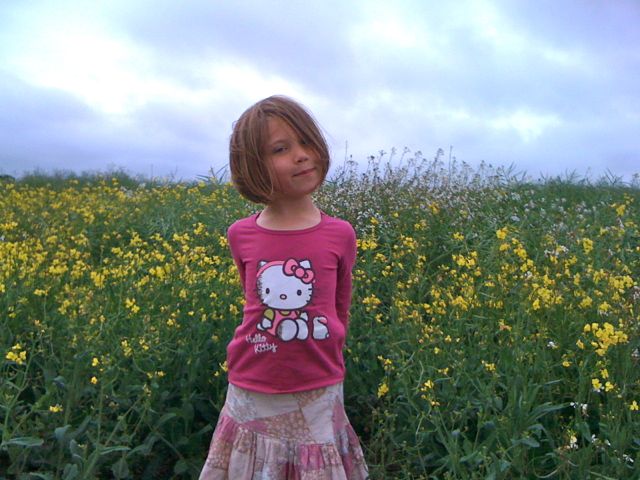 4. Camping connects us to each other.  Free from the interference of TV and screens, with the fire as our focal point, camping has the capacity to nurture our relationships. We can meet each other in a way that is often hard in the busyness of every day life. There is nothing like sitting round a fire with friends, a guitar and a glass of wine or dram of whisky at night. My favourite all time singer songwriter and Irish mystic, Van Morrisson, puts it so well,    "And in between the silence there was conversation and laughter, and music and singing and shivers up the back of the neck" (On Hindeforth Street).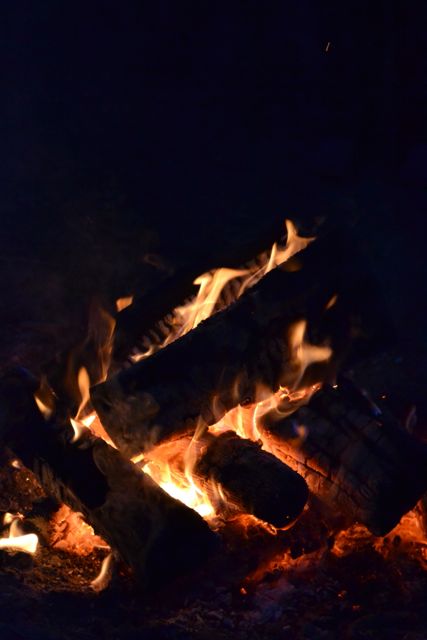 5. Camping is good for your bank balance. Going from holidaying as adults alone to holidaying with children is a bit of a steep financial curve. Camping is a great solution and no doubt one of the reasons why it is a boom industry in current times. With camping rates starting at £7 a night for a family, the tent and equipment soon pays for itself. Happy days.
6. Camping is good for the planet. Four people traveling to their holiday by car is one of the lowest carbon footprint holidays you can take. Many campsites are also 'going green', with farm shops stocked with local produce, compost loos and solar hot water. Happy,happy days.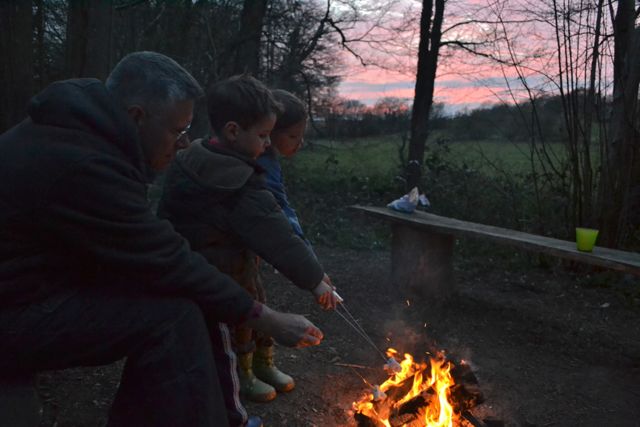 The cons
1. You are at the mercy of the weather. If you are in California or Greece, this may not be an issue for you, but here in the UK, the weather is unpredictable to the extreme which makes booking ahead a risk. But (surprising to me), last minute places on campsites are not easily available, so book ahead you must. Just before we went on our Easter camping break, my husband helpfully announced that, statistically, we are more likely to get snow at Easter than Christmas in the UK. Harbinger of doom!  When we went to Norfolk last summer, the warmth was rather lacking. Yet a few weeks later at the start of October we were basking in 89 / 30 degree heat. That's British weather. Being of Mediterranean blood,  I confess to finding this a struggle. I miss the hot sun on my skin, especially the feel of warm night-time air. I am keeping my fingers crossed that one day, a camping trip will coincide with warm weather. Still, we are learning from our hardy British friends that "There's no such thing as bad weather, just bad clothes". I duly pass on their advice – pack thermals.
Our Easter tree and egg hunt in the forest!
2. Getting ready for family camping takes ages. Packing a suitcases is a breeze in comparison. Having done it 4 times, I can vouch that it will take you a whole day to pack all your equipment and a whole day to put it away. If you are doing a weekend camping trip, you are into the law of diminishing returns, but still…  The amount of equipment you need is…well, a lot. Get a roof box for your car or a bigger car. Or a roof box and a bigger car. We have tried to camp without table / chairs / cooker unit etc…but just felt miserable trying to prepare dinner on the ground, and a touch envious of the fully equipped (seasoned campers) in the tent next door. Certainly, it is a squeeze, as we pile into the car with bags up to our ears (looking on the bright side, we are ultra-safe and cushioned in the case of an emergency stop). Get a check list for all you need to take and use it. Learn from our friends who drove 6 hours to Cornwall, grouchy toddlers in the back, only to arrive and find that the bag with the tent poles was still in London. Salutary lesson = put sticky notes all round the house a week before departure marked 'DONT FORGET THE TENT POLES'.
3. The tent-putting-up-challenge. You are finally at the campsite, the tent is out of its bag. You are trying to work out which pole goes where while children weave in and out of your legs, asking you 100 questions per minute and waving mallets and tent pegs at each other, ignoring your repeated instructions to put them down. Your partner gives you an instruction, not very clearly. You misunderstand what he says, do the wrong thing  and he gets snippy with you.  Welcome to the world of camping holidays where your relationship with your kids and beloved will be tested within 20 minutes of arriving. I have to expose my dear husband here. When we were buying our tent, I was very tempted to buy one with inflatable poles. Big pump, tent up in 15 minutes. Job done. "Nah". said hubby. "Having an argument while putting the tent up is all part of the camping experience". I have made him eat those words more than once.
4. Tent-taking-down challenge. This is not just the previous challenge in reverse. It goes something like this. You have been sternly warned by the manufacturers that any damp left on the tent when packed away will make it go mouldy, damage it and invalidate the guarantee. Rain is predicted, sometime close to your day of departure. You watch the sky and start doing sun dances to keep the raindrops away until the tent is in its bag. You nearly make it, the poles are out, the pegs loosened…when the inevitable happens and the heavens open. This happened to us at Easter. Our garden (aka handkerchief patch of a lawn) is too small for the tent to go up to dry. Our solution – spread the whole tent out in one room of the house and turn the heat up high.
5. Tent organisation.  You know how when you get to a holiday home, you check all the cupboards to find out where everything is, unpack your stuff, put your things out where you know you will find them? You are making yourself a home from home, all cosy and predictable. In a tent, this is somewhat of a challenge. How many times will you need to shout out "Have you seen the the tea bags / loo roll / matches / torch / your glasses / pyjamas / toothbrushes / kids favourite teddy they can't sleep without?". We still haven't cracked this, but I can totally recommend getting a cooker stand and a larder (which gives you an extra worktop for cooking) and using clear tubs and sandwich (ziploc) bags to organise your stuff. Any other tips gratefully received.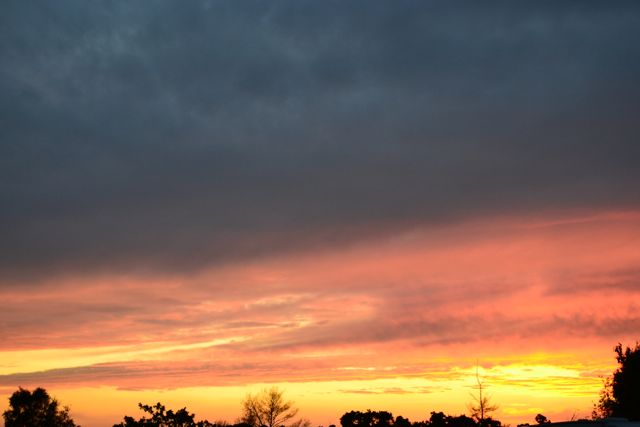 6. The sleep challenge. If you can crack this you can probably cope with everything else. Bad sleep  = very grouchy mummy and daddy. Good enough sleep = mummy and daddy who can cope with not being able to find the matches and coffee straight away. We have learnt from our mistakes so…if you are in a climate like the UK, don't just use a duvet. Get very good quality sleeping bags. Secondly, I tried single sleeping bags (felt all tangled up) and we tried both using a double (nice for cuddling…but every time hubby rolled over he tugged me awake so, thanks but no thanks). How we get good sleep is like this. Grown ups have a double sleeping bag each (which little ones can jump into into in the morning). We use blow up mattresses and…if your tent allows (ours does) put all your mattresses in a row and snuggle up together. We have done this every time and it means that if one of your children needs you in the night, you don't have to get up. Wear ear plugs (take lots of pairs) and if its cold, wear a hat!
Well, that's my offering on the pros and cons of family camping! We have just booked our next trip where we are gathering with two other families – the children are so excited and we are looking forward to hanging out round the campfire with each other and some good whisky and wine. Yes, camping is definitely part of soulful living. Fingers crossed for the weather!
 (NB. This blog post was going to be published a week ago but after 4 hours of writing and crafting the words, the save function on WordPress did not work…all lost. Boo hoo. Hence the longer than normal gap between blog posts! I did a bit of research and discovered that the autosave on WordPress is known to fail and have glitches – so be warned if you are a WP user and write in a word processor first!)