This is the 4th in the series of large outdoor mosaic insects for a local school and it is an absolute beauty . I love love love it  so much I think I need to make one for myself!.
Here is the process of making it (with tips for mosaic artists along the way). Some visual treats await you at the bottom of this post!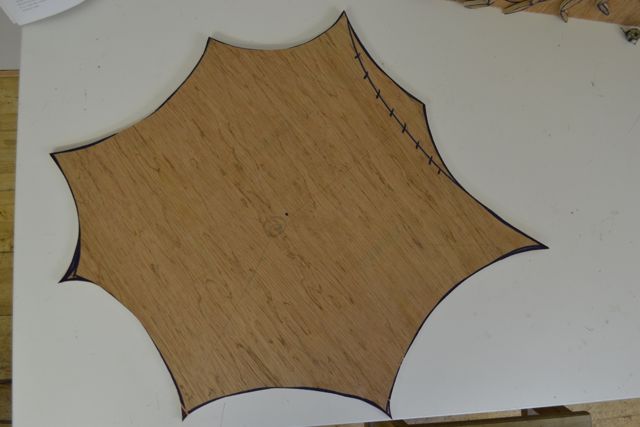 The mosaic is made on a base of wedi board (totally waterproof) reinforced by external plywood…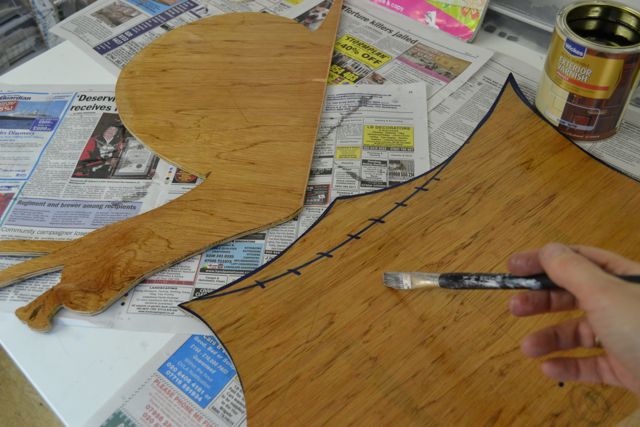 …which is sealed 3 times with varnish (particular attention given to the edges).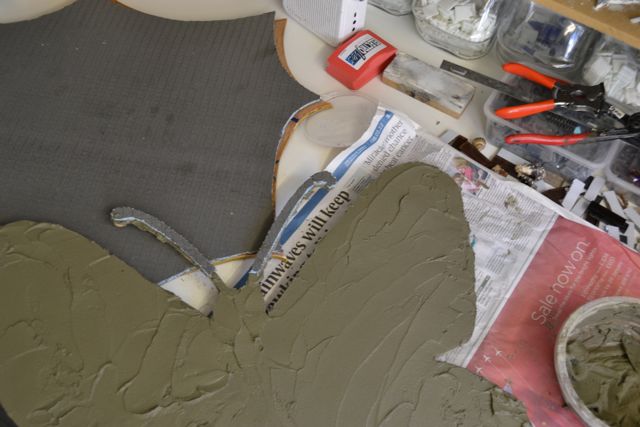 The wood and wedi are stuck together with cement adhesive (thinset) and finished off with a screed of the same (important for the edges but not the surface – I just do this so its easier to make pencil marks).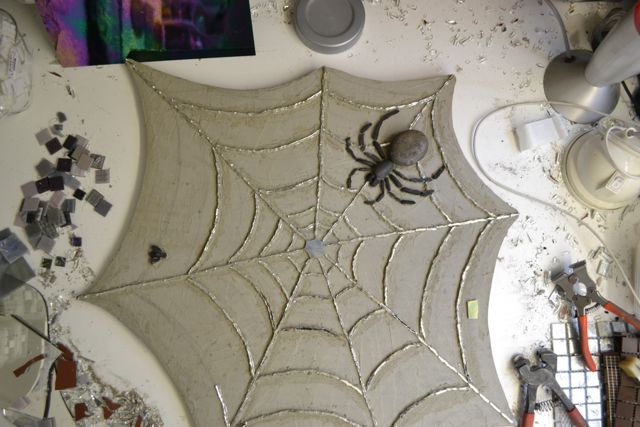 The mosaic is underway – the spider's body came together so easily it almost crawled into position by itself! It is made from 2 pebbles from my garden, a matt black nugget cut in half and the legs were made from stones I gathered from a beach in Wales, which were soft enough to cut. The web is made from recycled mirror, each piece cut carefully with two-wheeled cutters.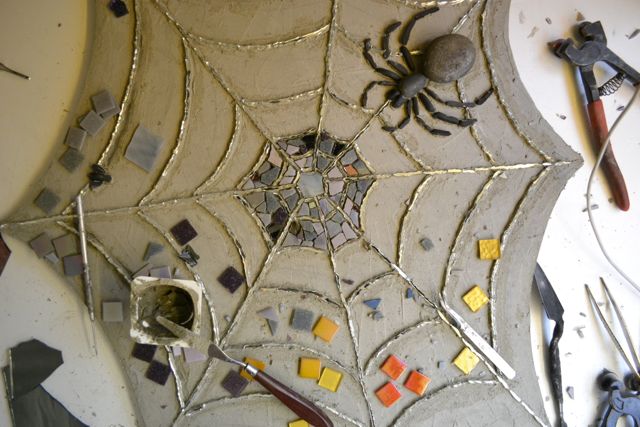 And so begins the very long process of making the web. Here, the key thing was for me to convey the sense of whispy fragmentation of a spiders web as you would see on an autumn morning, with a glimmer of sun shining through.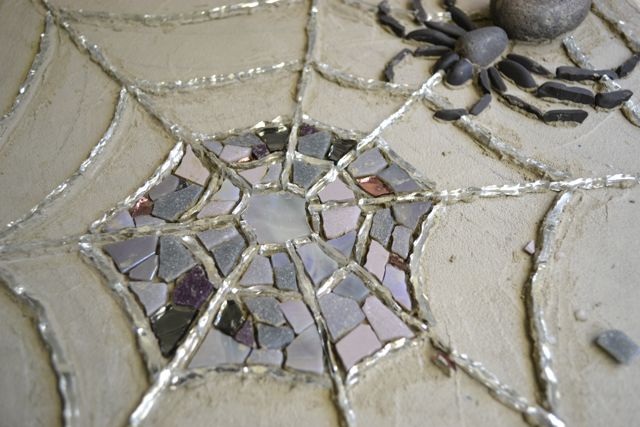 It took hours, and hours…each piece being cut several times to fit perfectly next to the other.  I soon donned my mask as the amount of glass dust was copious and making me cough…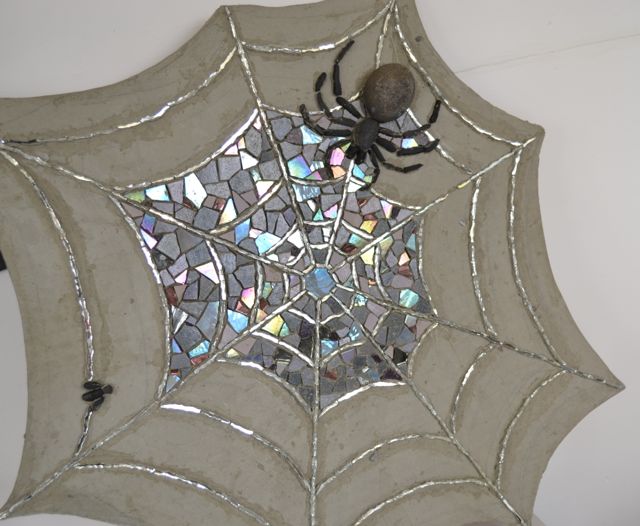 Part of the brief from the school commission was to convey elements of the food chain, so here we have an unfortunate fly (also made of pebbles), about to become lunch!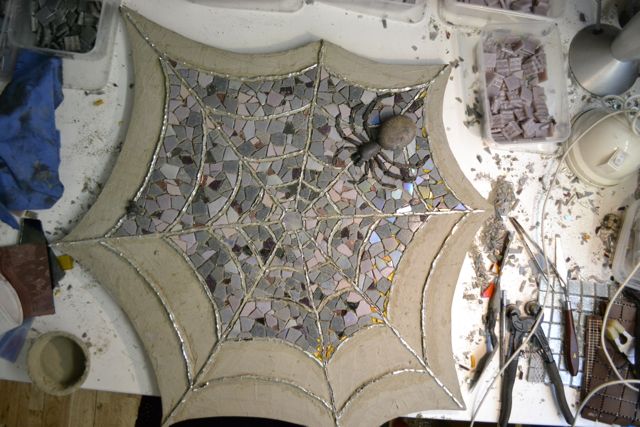 The cutting continues……for over 30 hours…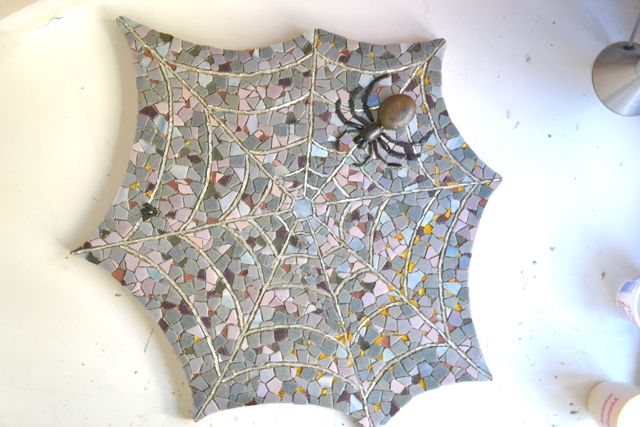 …until at last, I am ready to grout!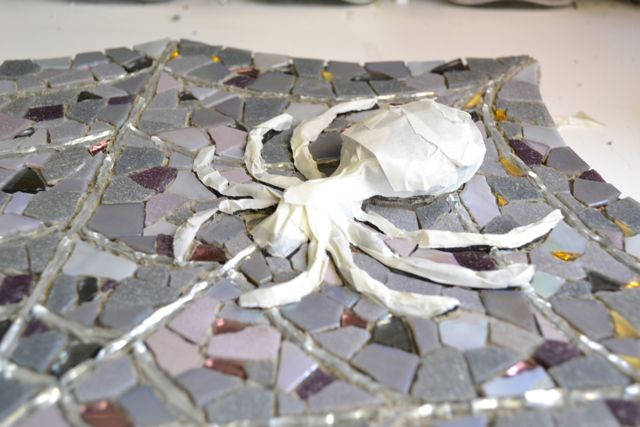 Before I do, I cover the spider and fly with masking tape as grout will get stuck on the pebbles and not wipe off well.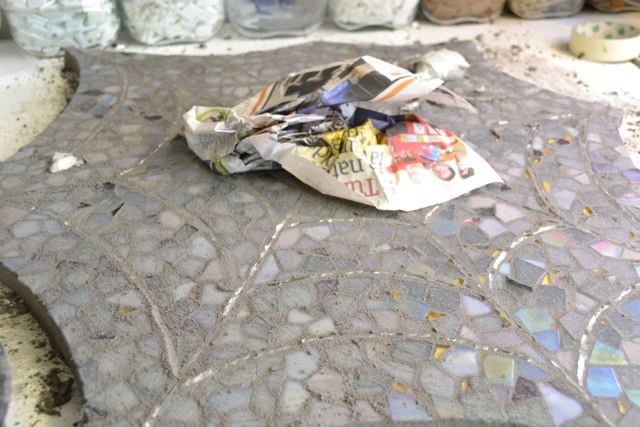 After slathering the whole thing in grout and pressing it in the gaps,  I use the dry grouting method (grout not too sloppy and clear up straight away by vigorous rubbing with scrunched newspaper, again and again until the grout is removed). Then comes the more fiddly clean up with a potters needle, slowly uncovering submerged pieces (often the case if you use tiles of different heights).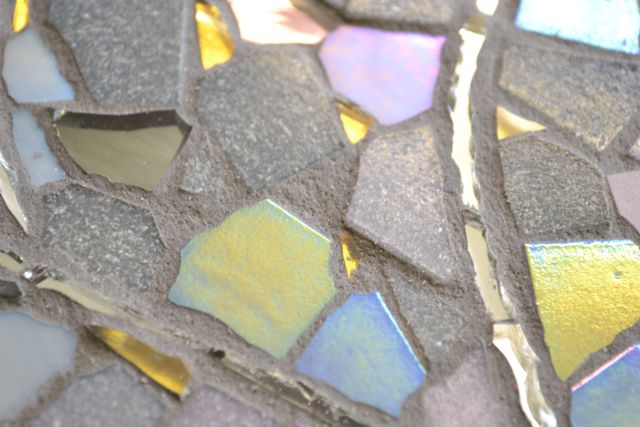 Can you spot it?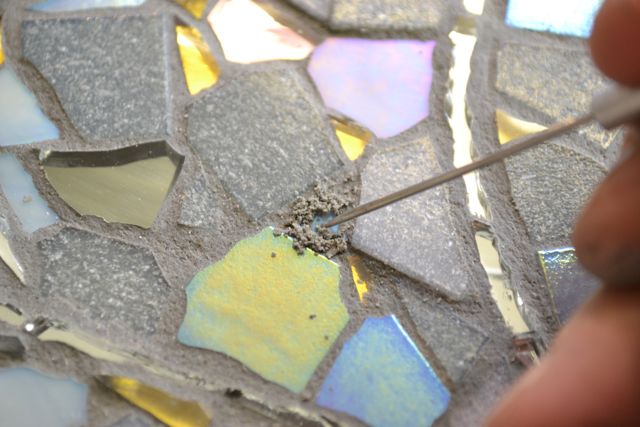 There it is!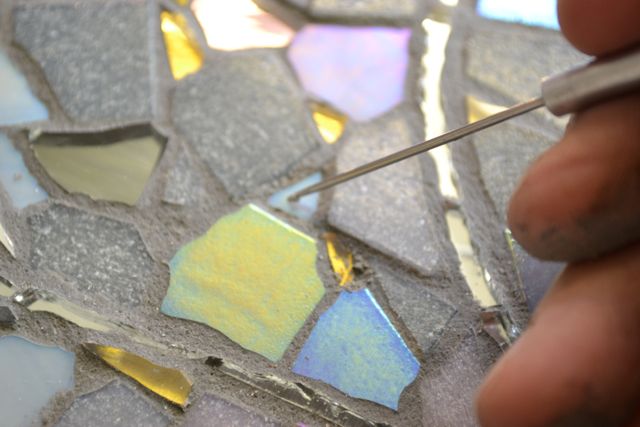 There were lots to uncover, so that all the pieces were ready to shine….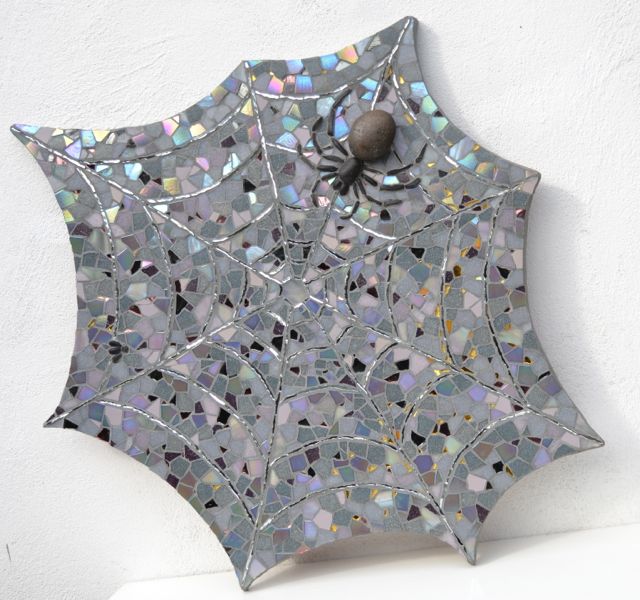 And shine they do! Indulge me please, as I show you snaps from lots of angles to catch the light…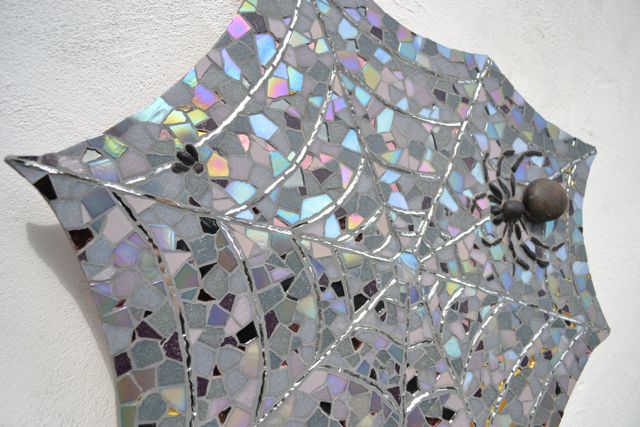 Spider on its way to catch its prey…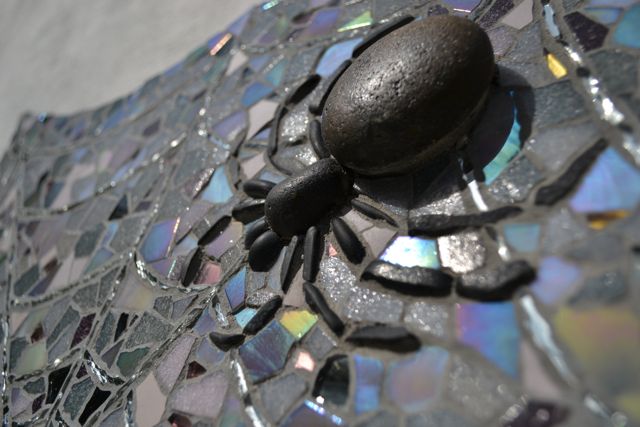 A close up of those serendipitous pebbles…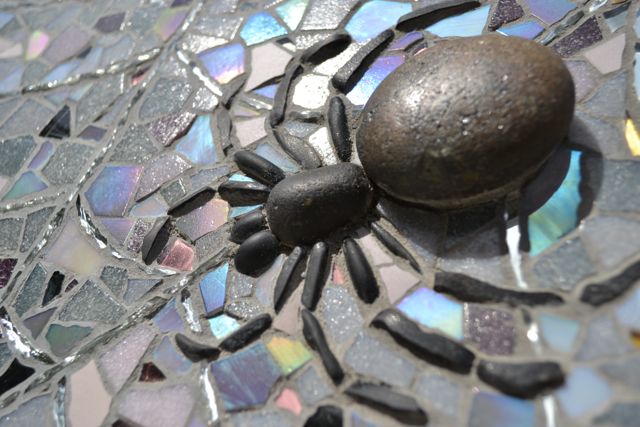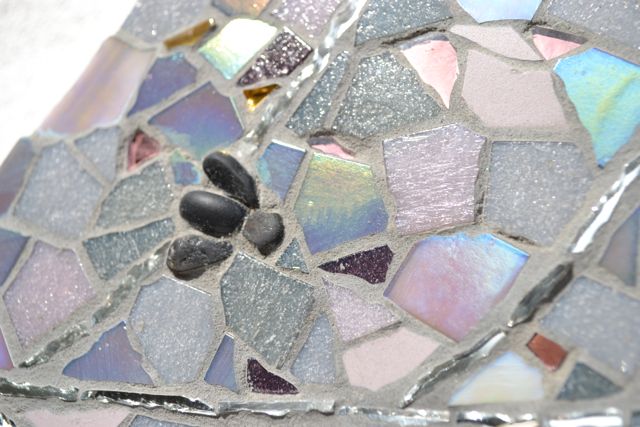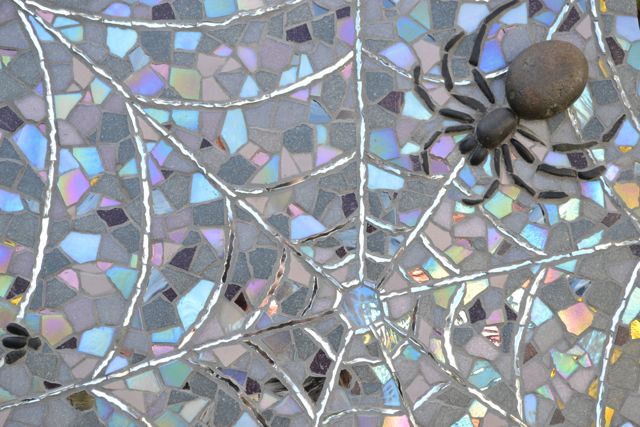 The sun shines on the web…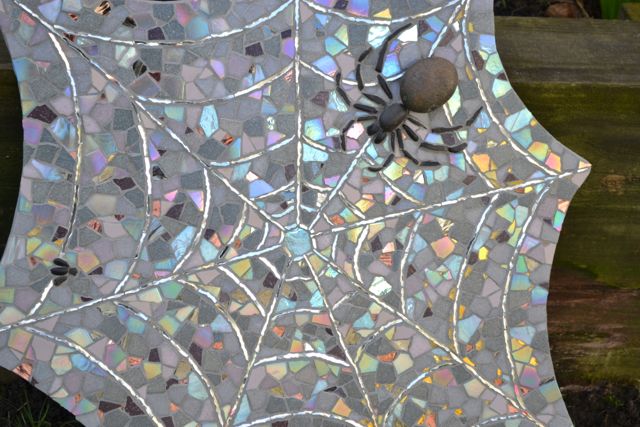 Glorious!